Description:
The roof welding machine Roof40 is exquisite in design, powerful in function and reliable in performance. It can be widely used in the overlapping welding of thermoplastic membrane materials, and is competent for the production and processing of membrane materials (indoor/workshop) and on-site construction application (outdoor construction site). Weldable materials: PVC/TPO/FPO/EVA and other waterproof rolls, PE/PVC plastic films.
The elongated fuselage combined with the movable rear wheel axle is applied to various occasions of the roof waterproof construction site: large area overlapping welding, skylight, and low wall.
The driving speed can reach 10m/min.
Guided design, ergonomic.
Adopt closed-loop control technology (digital display+mainboard control).
It can ensure the stability of parameters and the overall welding quality.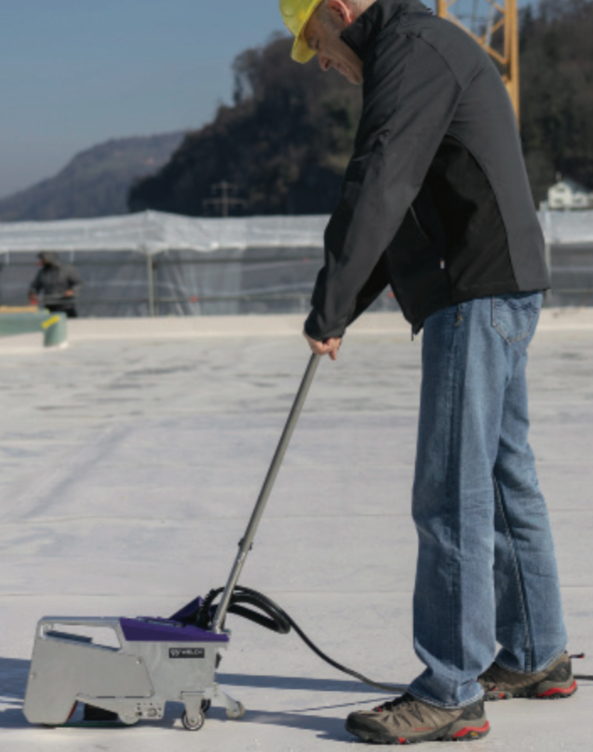 Specification:
Voltage: 230V
Power: 3450W
Temperature: 100°C-600°C
Speed: 0.7-10m/min
Welding Seam Width: 40mm
Weldable Materials: PVC, TPO, FPO, EVA
Dimension: 475 x 244 x 260mm
Net Weight: 15kg
Packing Details:
Packing Size: 580 x 460 x 370mm
Gross Weight: 25kg
Warm Tips: The plastic welder is 230V(single phase), the generator will be recommeded when using in the 120V countries.
Applications:
The Roof40 is a professional welder for rooftop welding and thicker materials, like arpaulins, TPO, FPO, EVA, etc.
fadad